2016 – 2017 New York Deer Hunting Season Dates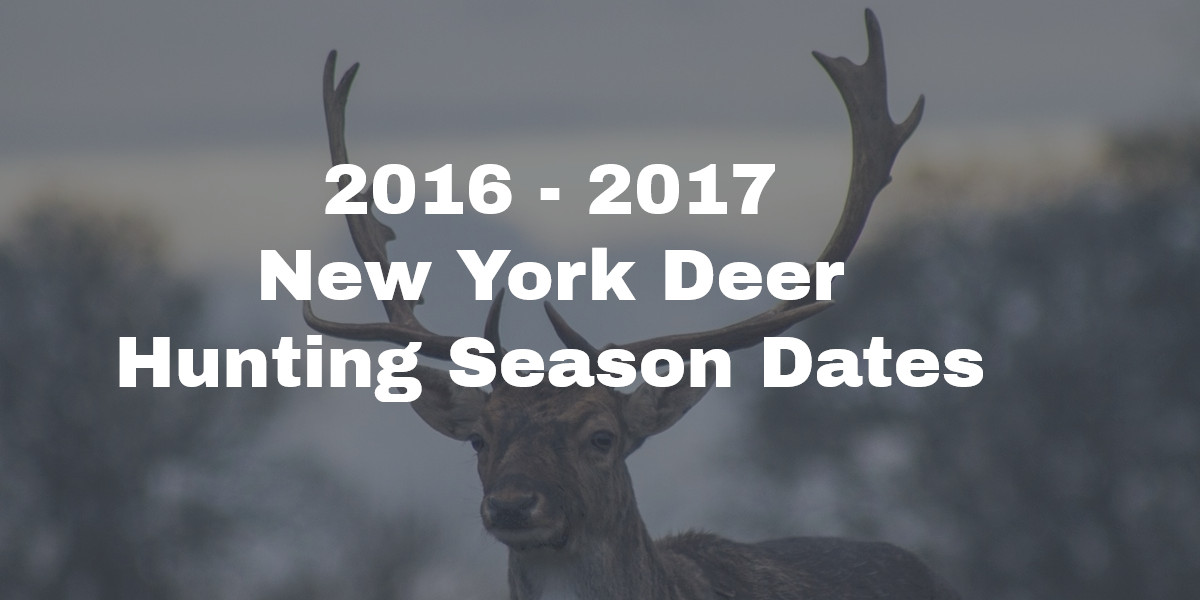 For whitetail deer hunting, the State of New York is basically divided into 2 main sections, the Northern Zone and Southern Zone, which makes up 99% of the state, and then there is Westchester County and Suffolk County.
These 2016 – 2017 deer hunting dates do NOT apply state wide, see the images below this chart for more information. Also please note that there are all kinds of strange restrictions in NY such as hunting in WMUs or antler restrictions, etc.
| | |
| --- | --- |
| Archery & Crossbow | Sept. 27-Dec. 20 |
| Regular Firearms | Oct. 1-Jan. 31 |
| Muzzleloading | Oct. 15-Dec. 20 |
| Special Firearms | For Suffolk County only, Jan. 1-31; special permit required |
This image from the New York State Department of Environmental Conservation's site shows regular and bow hunting seasons in NY.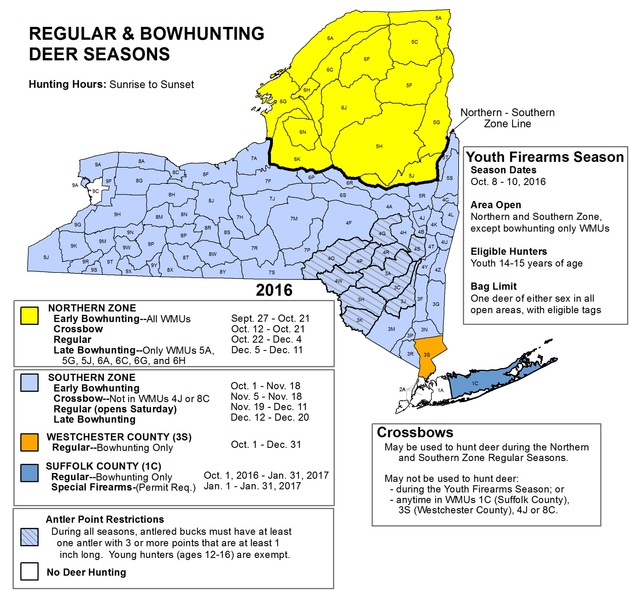 And here is the muzzleloading image:
Northern Zone
The Northern Zone is not specific counties but includes the Adirondacks. Some of the counties in the Northern Zone are Jefferson, St. Lawrence, Essex, Warren, Herkimer, Lewis, Hamilton and Clinton are in the Northern Zone.
Southern Zone
I have gone deer hunting many times in upstate New York near Cortland and Homer and up North of Watertown and even around Cicero and Syracuse. I was more of a pheasant and rabbit guy but I did hunt for white tail with a Remington Wingmaster 870 12 Gauge. I remember lurking through the cold forest, about 14 degrees Fahrenheit with 15mph wind gusts. Brr.
Counties in the Southern Zone include but are not limited to: Oswego, Oneida, Onondaga, Wayne, Seneca, Niagara, Orleans, Genesee, Wyoming, Ontario, Cayuga, Yates, Otsego, Madison, Fulton, Montgomery, Albany, Cotrland, Chautauqua, Cattaraugus, Allegany, Steuben, Chemung, Tioga, Broome, Delaware, Sullivan and Ulster.
Youth Firearms Season
In the Northern and Southern Zone, youth firearms season is Oct 8 – 10, 2016. Youth Firearms Season is for teenagers aged 14 – 15. For more information see the New York State Department of Environmental Conservation's site.
Hunting in New York City
I know nothing about New York City other than the place is very crowded. I have only been there once. I had no idea there was any type of wildlife in that place, but apparently the deer population has been growing since around 2000. It looks like the main deer hunting area here is Suffolk County. See the DEC's regulations for how to hunt here.