2016 – 2017 North Carolina Deer Hunting Season Dates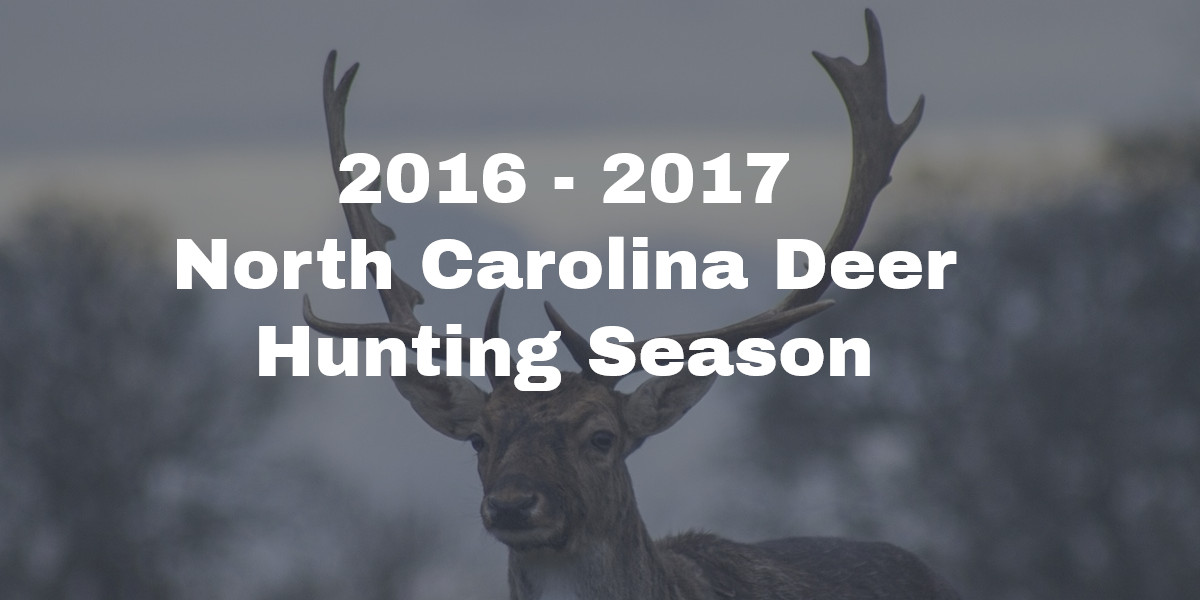 The North Carolina deer hunting season is different in various sections of the state. The state is broken up in to 4 sections: Eastern, Central, Western and Northwestern.
Youth Deer Hunting Day
Sept. 24
Eastern Deer Season
Archery: Sept. 10-30
Blackpowder:  Oct. 1-14
Gun: Oct. 15-Jan. 2
Central Deer Season
Archery: Sept. 10-Oct. 28
Blackpowder: Oct. 29-Nov. 11
Gun: Nov. 12-Jan. 2
Northwestern Deer Season
Archery: Sept. 10-Nov. 4
Blackpowder: Nov. 5-18
Gun: Nov. 19-Jan. 2
Western Deer Season
Archery: Sept. 10-Oct. 2 and Oct. 16-Nov. 20
Blackpowder: Oct. 3-15
Gun: Nov. 21-Dec. 10
What is Youth Hunting Day?
North Carolina's Youth Hunting Day in 2016 is September 24, 2016. Brand new in 2015, Youth Hunting Day is likely to coincide with "National Hunting and Fishing Day" in the future. On this day, youth younger than age 16 are able to use all legal weapons to hunt deer of either sex on both private lands and public game lands. Any youth that have successfully completed and passed a hunter education course will not be required to be accompanied by an adult. For current regulations, be sure to visit the North Carolina Wildlife Resource Commission.
What is a "primitive weapon" in North Carolina?
While some people may consider a true primitive weapon a knife or a spear, the chances of you taking big game such as white tail deer with a primitive weapon such as these is very slim. In NC, primitive weapons means bow & arrows, or crossbows as well.
Can I use a crossbow?
Effective October 1, 2011: Crossbows are a legal method of hunting in North Carolina, permissible anytime bow-and-arrow hunting is allowed.
This wasn't always the case: the North Carolina Bowhunters Association (NCBA) long lobbied against the use of crossbows except for handicapped hunters and those unable to draw a conventional bow.
There are stipulations: crossbows must have a minimum draw weight of 100 pounds, and bolts must be with fixed broadheads no less than 7/8 of an inch wide. Be sure to read up on current regulations if you plan on hunting with a crossbow.
What about Urban Archery Season?
Urban Archery season is open in participating cities only. Refer to the Regulations Digest for list. Jan. 14 – Feb. 18, 2017
Central Deer Season Counties:
The most popular, and crowded, area to hunt in the central area, mostly consisting of the Piedmont region, is near Pittsboro and around Jordan Lake Game Lands. The deer here are plentiful but rather small. Many hunters here either rent time at hunt clubs, or know someone who lets them hunt their land. Remember to get written permission if you are hunting on someone's land.
Here are the counties in the central section: Alamance, Davidson, Mecklenburg, Rockingham, Anson, Durham, Montgomery, Rowan, Caswell, Granville, Orange, Stanly, Cabarrus, Guilford, Person, Union, Chatham, Lee, Randolph.
Eastern Deer Season Counties:
Beaufort, Greene, Pasquotank, Bertie, Halifax, Pender, Bladen, Harnett, Perquimans, Brunswick, Hertford, Pitt, Camden, Hoke, Richmond, Carteret, Hyde, Robeson, Chowan, Johnston, Sampson, Columbus, Jones, Scotland, Craven, Lenoir, Tyrrell, Cumberland, Martin, Vance, Currituck, Moore, Wake, Dare, Nash, Warren, Duplin, New Hanover, Washington, Edgecombe, Northampton, Wayne, Franklin, Onslow, Wilson, Gates, Pamlico.
Northwestern Deer Season Counties:
Alexander, Iredell, Alleghany, Lincoln, Ashe, Stokes, Catawba, Surry, Davie, Wilkes, Forsyth, Yadkin, Gaston, Watauga.
Western Deer Season Counties:
The Western counties are strange. To make sure you are not violating any laws, please see the official regulations. From what we understand:
Gun: Either-sex season: Buncombe Haywood Henderson Madison Transylvania
No Either-Sex Season: Cherokee, Clay, Graham, Jackson, Macon, Swain
Gun Either-Sex Season* (Moderate Season): Nov. 21 – Nov. 26 Dec. 27 – Jan. 2 Cleveland, Polk, Rutherford